Home

>

Jacqui Purdy - Career and Business Coach
Jacqui Purdy - Career and Business Coach
About me
Hello
My name is Jacqui, I am a professionally qualified coach, my practice is called 'Here to There'. My job is to help you make the change from where you are to where you want to be in your career or business with confidence. I am based on the Hampshire/Dorset border and work with my clients face to face and online.
Career Development
Are you feeling 'stuck' in your current role, wanting to move on but not clear where or confident of how? I coach people who have unrealised ambitions or just find themselves wondering how they can better handle their current situation.
Career Change
Whether through choice or by force of circumstance, are you looking at a significant change in the direction of your working life? At Here to There I help my clients tackle their career transitions by working in three distinct modes: Reflection, Exploration, and Action. Sometimes the focus may be on just one, or it may be spread equally across all three modes - it all depends on the individual and their circumstances - and I tailor my coaching programmes to meet the particular needs of each client.
You, Here and Now
Lost your mojo? Keeping 'match fit' for the challenges you face, maintaining motivation, confidence and resilience in the here and now is a crucial aspect of coaching. Because being better able to handle your current situation can be an invaluable step towards realising your longer term goals, and makes for a more enjoyable and rewarding journey on the way.
Business and Executive Coaching
Vision: If you're struggling to vision and plan the next stage in your business journey, I can help you to define, plan and track your progress towards business success.
Performance: Are you and your team running at peak performance, or is there unrealised potential to be tapped? I work with business owners and managers to develop their own leadership and management skills, and the skills of their team, to best meet the needs of the business.
Change: Occasionally company restructure and organisational change can mean letting people go and that is hard for everyone involved - especially if they've been with the business for a long time. But the process can be more productive and less painful for everyone when outplacement and executive coaching is brought into the mix.
Training, qualifications & experience
My career has taught me a great deal about the pressures and challenges that are faced by businesses and the people who strive to make them successful. As a consequence, I bring insight and empathy – as well as realism and rigour – to the coaching relationship.
With 20+ years experience in the advertising industry, I have worked with clients in sectors ranging from technology to financial services to higher education, and with start-up businesses through to established global brands.
I have seen first hand the tangible, positive change that coaching can make to people's performance, both as individuals and as a team.
Coaching Qualifications & Accreditation's:
Diploma in Corporate & Executive Coaching (distinction)
The Coaching Academy – Institute of Leadership and Management endorsed
Diploma in Personal Performance Coaching (distinction)
The Coaching Academy – International Coaching Federation endorsed
Member of the Association for Coaches (MAC)
Member of Henley Coaching Centre (Henley Business School)
Accredited DISC Personality Profile Administrator
CPD Standards Office Accredited Provider
Certified Coaching Academy Mentor
Member of Dorset Chamber of Commerce & Industry
Ongoing Training:
AC Learning and Development programmes

Systemic Leadership Team Coaching webinar series with Professor Peter Hawkins

Mindfulness-based Stress Reduction (MBSR) - Dorset Mindfulness
Treating Intrusive Thoughts and the Inner Critical Voice
TCA Learning & Development (CPD recognised):

CPD Confidence Coaching
CPD Mindfulness and Coaching
CPD Personal Finance Coaching
Areas of coaching I deal with
Other areas of coaching I deal with
I am a qualified DISC Personality Profile administrator. As one of the mostly highly validated tools of it's kind, it can help us unlock the 'people puzzles' in our lives. DISC equips us with a better understanding of our own preferred behaviours and communication styles, as well as those of the people around us in our personal and professional lives.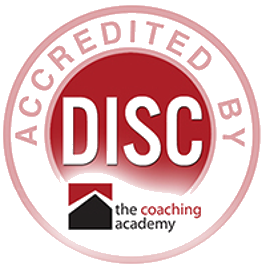 Fees
Complimentary Consultation
My fees are 'programme' based, which means they depend on how many sessions we agree would be appropriate, and how long we think each session should be.
As a rule of thumb, a typical programme will be four to eight sessions. I maintain a minimum programme of four sessions because my experience is that you're unlikely to truly reap the rewards from fewer sessions than this.  Session lengths can vary from 1 hour to 90 minutes and we can determine what lengths will best suit your needs and budget.
Our initial call will be a consultation, it is complimentary and will last around half an hour. During this time we can discuss in confidence which areas you want to be coached around and how we would work together.
Further information
Happy Clients
"I have really enjoyed my sessions with Jacqui. They gave me the time to really think about and concentrate in detail on my business and where I want to take it. It gave me new ideas and also increased my confidence."
ST, Business Owner and Artist
''The sessions really helped to pull out my values, priorities and goals in life. It feels very good to get something on paper and want to work towards realistic and achievable goals. It's changed my outlook on life and I now feel anything's possible if you really want it.''
ND, Healthcare and Child Development Professional
"I have loved working with Jacqui as my coach. She manages to retain a natural, relaxed and supportive style while still challenging me to think differently. My coaching sessions with Jacqui have supported my development and achievement tremendously and I feel in a much better place having worked with her."
KH, HR Director, Public Sector
"I have found the sessions really useful as I've never really taken the time or had the techniques to help me move forward before. The sessions taught me to think about what I want in a different way. It's helped break it down into manageable chunks too."
AT, Marketing Manager, Music & Publishing
Type of session
| | |
| --- | --- |
| Online life coaching: | Yes |
| Telephone life coaching: | Yes |
| Face to face life coaching: | Yes |
| Home visits: | Yes |
Practical details
| | |
| --- | --- |
| Sign language: | No |
| Other languages: | None |
Availability
I will flex as much as I can around your day. Usual hours are Monday to Thursday 08.00 to 20.00 and Friday 08.00 to 16.00.