Coaching A-Z
Staff coaching
Employees are at the heart of any business. Whether you have one employee or 100, getting them on the same page, connected to the business values and dedicated to a shared goal should be priority. 
At the same time, it's important to recognise that everyone is unique and individual. We all have different strengths and skills, and some employees may need a helping hand to develop skills that will allow them, and subsequently the business, to flourish.
Here we look at how staff coaching can be used to help employees grow personally and professionally, deciding whether or not coaching is the right approach for your business and the difference between coaching and mentoring. 
What is staff coaching?
Before we get into the nitty gritty of staff coaching, let's explain what coaching itself is. The aim of coaching is to help someone make a change and/or achieve a certain goal. This is done using conversation techniques like questioning, listening and reframing. The conversation is usually geared towards helping the coachee uncover the answers themselves (rather than the coach telling the coachee what to do). 
Coaching can be used in lots of different areas, including health and fitness, personal development and of course, career and business. Staff coaching is when a coach helps an employee learn or enhance certain skills, often working towards a set goal. This approach may be used to teach an employee a new skill, improve their performance in a certain area or build on interpersonal, confidence or organisation skills. 
At the start of the coaching relationship, a goal will often be set by the employee, usually with the support of their manager. Working together, the employee and coach will meet for regular sessions in-person or remotely, to create an action plan for achieving the goal. Coaches provide support and accountability, giving the employee a clear framework to work within. By putting what they've learnt into practice at work, employees often find they make fast progress.
While staff coaching is typically carried out with career and business progression in mind, the skills learnt can often overspill into other areas. 
---
Is coaching the right approach for my business?
Understanding the benefits of staff coaching is a good starting point for both you and your employees to help decide if it's right for you. Here are some key benefits staff coaching can offer:
Help to improve communication skills, conflict management and relationship cultivation
Communication is essential for any business, both within the company and externally. If you've found communication, conflict or relationship-building to be a problem for your staff, coaching could help them build skills in this area. There may be one employee in particular who would benefit from this support or you may want to explore group coaching.
Increase organisational and time management skills
Being organised doesn't come naturally to us all. Learning new techniques and finding a way to organise work can be helpful for employees struggling with this aspect of their roles. If the employee has dyslexia and this is impacting their organisational skills, you may want to consider hiring a dyslexia coach who will be aware of their needs. 
Encourage existing talents
It can be easy to focus on skills people don't have, but there's also a place for nurturing existing talents. This can stop employees from getting complacent, help them hone their craft and fulfil their true potential.
Build self-confidence
Self-doubt can hold many people back. It's something we all encounter from time to time and if you think a lack of confidence is stopping your employee from progressing, a coach can help with this. Encouraging them to nudge out of their comfort zones and slowly build confidence, a coach can help employees see their capabilities and push through fear to succeed. 
Improve presentation and public speaking skills
Some roles require presentation and public speaking skills. These come with experience, but if you want an employee to be supported and accelerate their learning, you may want to hire a coach with this expertise. By uncovering the obstacles getting in the way of the employee and helping them manage their fear, a coach can support them to practice more and feel confident when presenting. 
Inspire new ways of thinking and boost creativity
It can be easy to get stuck in a rut at work, especially if employees have been with the company a long time and tend to do what's always been done. Hiring a coach can help employees think in new and different ways, sharing techniques to inspire creativity and original thinking. 
Support with managing workload, setting boundaries and avoiding burnout
Workplace stress and burnout are big concerns in a range of industries. There are steps you can take as a company to support your team, but you may find some employees benefit from more focused attention through coaching. A coach who supports in this area can help employees set and manage expectations, create healthy boundaries and improve work-life balance. 
Offer a safe, judgment-free space to learn and self-reflect
Work can be incredibly fast-paced, with never-ending to-do lists and missed lunch-breaks. Coaching can offer employees the dedicated space and time to pause, reflect and learn. Sessions can be used to discuss issues that have arisen and ways they can navigate these issues moving forward. 
Recognising behaviours that support the company's values and supports employee engagement improvements will show that you're listening! People flourish when they are praised and listened to. Encourage more positive behaviours, and demonstrate you are putting your people first.
These are just some examples to consider. Ensuring your employee resonates with and trusts their coach is important too. If your employees understand how coaching can help them develop and are excited about it, rather than feeling like they're simply ticking a box to secure a promotion, the outcome will likely be much more positive. 
Many employees are excited and grateful for the support a coach can provide, but it's important to note that it's not the right approach for everyone. If the idea of staff coaching doesn't feel right, there are other avenues to explore. External training, online learning or mentoring may feel like a better fit for your business. 
---
What is the difference between coaching and mentoring?
The aim of coaching and mentoring is largely the same - to help someone make a change and achieve a goal. The process itself is also similar, using conversation, questioning and listening techniques while offering accountability and support. 
The key difference is who is offering this service. Coaches are specifically trained, often work predominantly as a coach and will therefore be external to the business. Mentoring relationships at work tend to involve a more senior member of staff within the business who will work with someone less experienced. 
Mentors will use their knowledge and understanding of the business to help the mentee develop skills necessary to progress in the company. Some mentors will have undertaken coaching training, but often it is a less formal arrangement.
If you believe an employee could benefit from either coaching or mentoring, consider what outcomes you'd like them to achieve and the level of support needed. Those who would benefit from a more structured approach with support from someone external may be better suited to working with a coach, while those who need less support and more guidance from someone with company insights may prefer to work with a mentor.
You can also ask your employee which approach they believe would suit them best. Some people like the familiarity of working with someone within the company, while others enjoy the distance coaching can provide. 
Start thinking about your employees and your customers in the same way. Give the quality of the ways you engage your own people as high a priority as the ways you engage your customers and potential customers.
If you're ready to take the next step and search for a staff coach to support your employees, use our tool to find a coach near you. 
---
Further reading
Would you like to provide feedback on our content?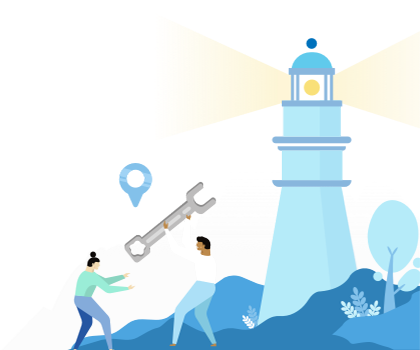 Find a business coach offering staff coaching