Career coaching
Going it alone: how about working for yourself?
Going it alone - you are thinking of working for yourself.

In my role as a career and life coach, I work with many clients aged forty and above who have reached a fork in their career path. For some, there is the attraction of being self employed. How fabulous to be your own boss, avoid office politics and be fully in control of your own work. It's what many people want, especially if they are looking after a family at the same time. Who'd not want this? Well, many people find it hard to make that leap.

If you are at career-crossroads and are thinking about going it alone, you will have two main options: freelancing in your current role or starting something completely different. It's easy to lack confidence to do either, which is where a coach can help you by being a partner in the structuring of those changes, help you plan what to do and build your self-belief.

It's vital to be honest with yourself. If you have always had a dream to restore furniture, bake wonderful cakes, design gardens or set yourself up as a company in your current profession, what is holding you back? It's often a fear of failure, undergoing change and not being certain of the outcome. 

Change is scary for everyone. But small steps make the whole process easier. It's usually possible to dip your toe into the water without jumping straight in at the deep end. If you have a skill, why not begin by offering it to friends and contacts while you still hold onto your day job?  It can be something as simple as a raffle prize, a charity auction or a free trial for a client.

This way you can test the market without incurring much risk. Many businesses can be run from home with nothing but a desk, a phone and a computer initially. Reasonably-priced business cards, a free website and some networking meetings (many are free) will get you started and looking professional.

I'm currently coaching clients who are holding down the day job but are also studying part-time as a foundation for their next career. Slowly but surely they are preparing for the transition so they can move into a new career. I'm also coaching clients who, when they first came to me, were working from their spare bedroom but are now in commercial premises and employing staff. It's hugely satisfying for me and them to see this kind of progress.

Many clients have always had a dream; when I ask them what they'd like to do they often say, "I've always wanted to do..." More often than not they have chosen a more secure, but less satisfying alternative. Ask yourself the following:
What's your dream? 
Are you fulfilled and fulfilling your potential? 
If not, why not?
What is holding you back? 
Write down your answers and then reflect on them. Is it because you have a 'can't do' mind set? Are you terrified to take a risk? How can you take that step but minimise the risk?

My top ten tips for working for yourself successfully:
Be 100% enthusiastic about what you want to do.
Be positive. Learn to zap the self-doubt.
Take small steps while gradually leaving behind your comfort zone.
Explore. Look at courses, loans, grants which may help you be better qualified or fund your learning.
Set yourself a three, six and 12 month goal. Break down the first goal into a weekly action plan.
Be prepared to work hard. Working late into the evening after a day at work is the norm initially.
Network. Explore the market for your skills before and after you create your business. Talk to friends, contacts and join free groups. Use Twitter and LinkedIn.
Don't undersell yourself: if you are qualified or an expert, or have a quality product, don't sell it or yourself too cheaply. Appreciate your value.
Be willing to invest in support, such as upgrading a website, using a marketing or media expert- to take your brand from amateur to professional.
Talk to a coach who can keep you on track with a monthly session and act as a sounding board and motivator (but I would say that, wouldn't I?).
Share this article with a friend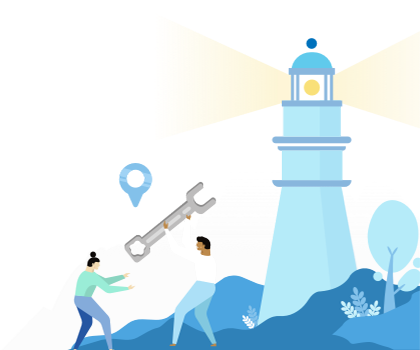 Find a coach dealing with Career coaching