Career coaching
Careering towards a life you love - at any age
So much has been written about work-life balance in recent times, and there's little wonder. We scratch our heads and ask ourselves how we got here. We're busy to the point that we don't know what we're doing from one day to the next and feel more tired, anxious and stressed as a result. We keep going because we believe we have no time to do anything else, living in the vague hope that something will change and get us back on track.    
It's weird because, on one hand, we have the world at our fingertips where we can connect and stay in touch with family and friends like never before and yet on the other, we fall prey to the shadowy side of this connectivity turning us from being decent hard working people into workaholics addicted to spending unhealthy amounts of time plugged in with life passing us by.  We feel guilty and frustrated as we try to hold on to diminishing amounts of precious time with family and friends and see our most important relationships suffer.   
This modern phenomenon is universal and affects men and women alike and it isn't going to go away. The discontent we feel is actually very human because it's our inner voice telling us something isn't right and deep down we know that life should be very different. We are also experiencing the law of diminishing returns which wisely suggests that the more we acquire (financially and materially) the less time we have to enjoy the fruits of our labour and so we lose that feeling of life is good. 
If reading this strikes a chord but also leaves you wondering what you can do, then working with a career coach could be one of the greatest gifts you could give to yourself – no matter what stage of career you're at. We all know there's never a right time or a best time, but work wise, today more than at any time before with that world at our fingertips there is more opportunity to do a number of things, rather than be defined by staying in one or two, or even a few jobs over a lifetime.  Anything and everything is possible – so whether you're post grad or post retirement – a slight tangent here I know but there are increasing numbers of people working well into their 60s and 70s where they've discovered work they love with no intention of retiring. That's another story, but also very heartening, perhaps more so if you're mid or late career. 
The important thing is that wherever you find yourself on this timeline of work, if something isn't right, then spending some time with a thinking partner who can help you devise a plan and then support you through it will suddenly feel like it is the right time after all. You'll be able to step back, take stock, stem the stress tide and turn the corner filled with new hope and a sense of anticipation as you begin to build a new career – or careers. There's also the knock-on effect with those closest to you feeling they're getting their mum, dad, friend or partner back as your plan unfolds.
 
Career coaches effectively help you work towards achieving whole life balance combining reflective questions with personality and skills assessment techniques and by understanding what you hold dear (your values). Your plan may involve a period of re-training, or returning to study, or working with the skills and knowledge you already have. In fact, a coach friend of mine said recently, 'what you have is all you need' – wise words indeed.
And so careering towards a life you love is not just about CV writing, applying for jobs, doing panel interviews and assessment centres only to then join the gravy train of being onboarded, inducted and put through the mill again. It is more to do with paying attention to something else; the force from within and working out what you really want. Deep down when we're thinking about a new career often what we're actually yearning for is a way of finding meaningful work and life balance.   
Share this article with a friend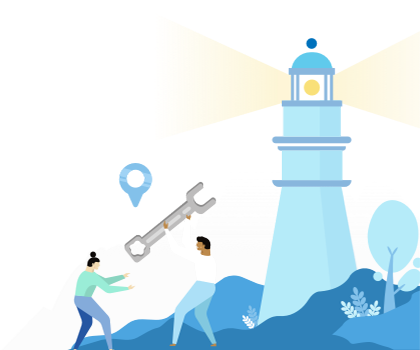 Find a coach dealing with Career coaching