Mentoring
Do I need a coach, mentor or both?
It can be confusing for you to decide whether mentoring or coaching is more appropriate for your needs. There are so many parallels and both offer personal development and growth.
In what ways are coaching and mentoring similar?
Mentoring can often include elements of coaching and vice versa. Both relationships are built on openness and trust. Both offer a thought partner, someone to bounce ideas around with. Both can provide objectivity and offer new perspectives on a situation. Both require skills in listening and questioning. Both involve challenging your thinking and may involve constructive feedback.
So… what's the difference?
A coach works with you over the short term. They will work on a specific topic chosen by you. The coaching process would typically involve identifying your issues, scoping out your ideal position and using a variety of techniques, to empower you to reach your goal.  
A mentor on the other hand would develop a longer term relationship. Their role is to guide you through a particular life chapter. Mentors typically possess particular knowledge, experience, expertise, skills or capabilities that they impart to their mentee to help equip them for their situation. 
When would a mentor be most appropriate?
Mentors are typically chosen when people are looking for insight, advice and guidance on how to do something from someone who has experienced a similar situation themselves. Often the client seeks more practical assistance. 
Two examples of when mentoring might be beneficial:   
1. Business start-up
If this is your first business, then a mentor who has already been through this process can guide you through the practical steps of starting up. They will be in a position to empathise with your situation which means they will not only know what work is involved but they will also have a sense of how you are feeling.
Only half of start-ups make it beyond their first five years but mentoring can change this success to 70% (1). Having a mentor reduces your chances of making mistakes. Mentors can also be there for you as your business evolves, supporting you through key decision-making points and referring you on to helpful resources.
2. Life skills
At several points in life, we are faced with doing something pivotal for the first time – whether it is looking for your first job, choosing a university, buying a home, having children or deciding on when to retire. At these significant points, it can be really helpful to talk to someone who has been through this process. They can point you to important resources, introduce you to key contacts and clarify the process and potential pitfalls ahead. 
When would a coach be most appropriate?
Coaches empower you to maximise your potential at any point in your life. They are usually chosen for a short time period to work through a particular issue, or achieve a particular goal which often has both practical and psychological considerations. Coaches have not necessarily been through a similar experience so use more listening and questioning rather than advice, so tend to be more non-directive in approach.  
1. Changing career direction
When you are thinking about changing your career direction, it might be important for you to keep an open mind and consider multiple options. Coaching can help you stand back and look objectively at your situation, and encourage you to evaluate what is best for you taking every aspect of your life into consideration. Perhaps there is a portfolio solution rather than a "one role" answer.
2. Reapplying for a promotion
Perhaps you have been unsuccessful in a promotion and want to regroup before reapplying. Coaching can support you by objectively examining your situation – coaching can explore your motivation or purpose for applying. Running through your feedback and looking at how you can effectively demonstrate and evidence the relevant skills for promotion.  
What about a hybrid model – coach and mentor combined?
This can work. I have come across many clients who have both a coach and a mentor simultaneously. There are a lot of crossover in the skills needed to do both roles. Some coaches can flex between the two roles. 
I often operate a hybrid model and comfortably flex between coach and mentor. I think it is important however for the professional to understand their client's needs – are they looking for direction or exploration? By starting in a non-directive coach mode, clients can explore their own thoughts then I find it useful to ask permission before offering any guidance. If they seek a more directive approach, I signpost that I am in mentor mode before offering any advice.
Although I am primarily a coach, I can mentor on a number of life experiences like starting your own business, changing career direction, becoming a parent, decision-making about elder care etc. 
References
1. How a Mentor Can Increase the Success of Your Business | Inc.com 
Share this article with a friend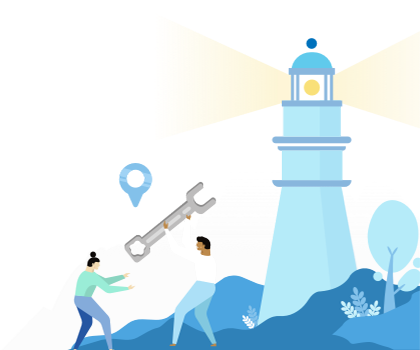 Find a coach dealing with Mentoring