Personal development
What is climate coaching?
You know you want to do more for the planet, but you feel overwhelmed and unsure of where to start. Does this sound like you? There's a lot of noise about sustainability – and rightly so, we are in the midst of a climate emergency. But this noise can make it feel like an intimidating space to enter, worrying about doing it 'wrong', or simply not knowing where to start.
This is where climate coaching can step in. We talked to three coaches who offer climate coaching or work in a climate-aware way to learn more about this emerging sector and how it can support us to make meaningful change. Let's start with the basics.
What exactly is climate coaching?
"For me, climate coaching can be as simple as coaching around personal environmental goals, but it could also mean coaching around climate anxiety and the big emotions linked to feeling overwhelmed by the task at hand." Coach Lindsey Ladhams tells us.
At its core, coaching is about gaining clarity and being able to move forward, and climate coaching is no different. If you're feeling stuck in this area, whether because you're unsure of what to do or because you're struggling with climate anxiety, climate coaching can help you identify what's holding you back and give you the freedom and direction you need.
Personal and executive coach Barbara Bates highlights the distinction between sustainability and climate coaching.
"Sustainability could be described as the science and practice of what helps to create economic activities for the needs of daily life that do not harm the planet, its ecosystems and vulnerable populations. It's the antithesis of unlimited growth and clearly a very important pursuit.
"In climate coaching, although sustainability might well arise in the sense of what actions can you take, I would say that the context is larger than that. Ultimately for me, it is enabling people to work out 'what's mine to do', out of the huge range of activities that people might undertake. It segues into many other areas, and so my approach is to look systematically at those areas and then go where the client feels is right."
Discussing the content of the coaching sessions themselves, Barbara explains that they start with a basic question, 'why do we even care?'. After identifying this core 'why', measurable outcomes can be formed.
"Then we go on to things that are intimately connected with the climate 'issue', if I can even limit such an enormous subject into one little word," Barbara says.
"Some examples include the basics of systemic thinking – who is affected, connections, the domino effect, vicious and virtuous circles; other related issues such as population growth, mass movement of peoples, hunger, war, terrorism, pandemics; a paradigm shift into a new reality, emergence, surrender to not-knowing until we do know…etc.
"We also make it really personal – how do you feel? All this brings up strong emotions – perhaps fear, guilt, despair, shame, terror – but also determination, necessity, urgency. What are the emotions you are feeling and how can you name them? Emotions are data from our whole body-mind system – what are they telling you? We might introduce the topic of deep adaptation – to 'embody and enable loving responses to our predicament'.
"If the client wishes, we can also look at awareness for change – self-awareness, mindfulness, contemplation/prayer, personal resilience, respect for nature, how to find robust information. The importance of consciousness as well as action. We might also look at the idea of 'holding up the sky', Theory U – a sense of not-knowing is part of the process."
What is climate-aware coaching?
While climate coaching brings coaching support to the subject of climate, climate-aware coaching could be described as bringing elements of sustainability, nature and the environment to the entire coaching approach.
Coach Rowan Armstrong takes this approach and explains that he likes people to enjoy their coaching outside.
"This has many advantages – it removes you from the formality of an office, café, hotel. The experience of being in a large outdoor space frees the mind to explore. It allows the eyes to wander. How often do you look to the horizon?
"Our modern lives keep our focus close, just a few centimetres in front of us, looking at screens of computers and phones. Just being in nature, a complex environment where we as a species evolved, is powerful. We are set free from the bland beige and grey built up world. The mind is allowed to follow more paths when thinking."
Walking side by side, Rowan explains that the pressure of eye-contact is removed, allowing for a more open conversation. Looking around, you also get the opportunity to spot metaphors within nature.
"We see nature's resilience, how she thrives at the edges, the woodland meets the urban, the sea shore meets the land. These are the most fertile areas.
The liminal spaces, places where planets and habitats blend and magic happens. In coaching these are the places where new ideas rub against the limiting beliefs.
What can we get from these approaches?
When it comes to climate coaching, Lindsey breaks down what she thinks clients can gain:
a sense of what they can do, which can help to keep the client's optimism up
a clear plan of action for themselves, if that's what they need at that time
insights into their motivation behind wanting to be more eco-friendly
insights into what they realistically want to do
space to process any fear, anxiety, guilt or anything else that's lurking
Having this dedicated space to explore this topic shouldn't be underestimated.
Rowan explains that being climate-aware offers clients a sense of being part of something bigger, "Being part of a wider community of the world, of other beings we share our homes with. How through cooperation and competition nature finds balance.
"It lets clients know they are part of the solution that can help shape and drive a new contract between us as humans and the planet and its sentience. How this understanding improves their well-being, mentally, emotionally and physically. Helping to remove guilt and also showing that many people taking small steps makes a big difference."
Small steps forward
As Rowan says, many people taking small steps makes a big difference. If you've read this and are feeling inspired to take small steps, where should you start? One option could be to take Barbara's climate awareness quiz which helps you see what you're already doing and consider what you might like to try next, "Three examples could be: be informed and talk about it, limit car use, recycle as much as you can" Barbara says.
We have also rounded up some resources to help inspire those first steps:
Whatever step you take, know that it holds meaning. And if you're ready to start your climate-aware journey, you can use our search tool and include the keyword 'climate' to see which coaches mention this on their profiles. Browse the search results and reach out to who you resonate with.
Share this article with a friend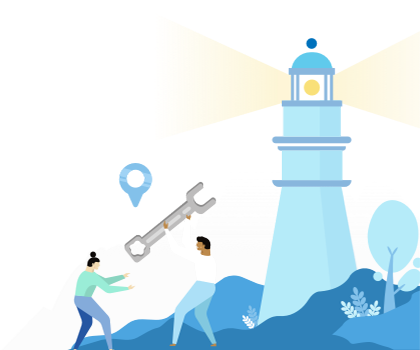 Find a coach dealing with Personal development