Personal development
New year, new you... in February?
It's February and, by now, any new year resolutions may seem a distant memory. But, having ambitions, hopes and dreams don't just have to be for January. They can be all year round. Here are five aspects to consider if you are keen to see progress in your life.
---
Five things to consider to see progress in your life
What really matters?
It's a great time to think beyond a quick fix, and move into a reflective space of what really matters to you? If you are already thinking I could never be that indulgent then pause, yes you can. It's part of adult development (R. Kegan) to move beyond what others may be thinking of you and start deciding what really matters to you.
When we start to understand and act on what really matters to us we move beyond individual goals connected to our work and start looking at our lives in their totality and because we are human what really matters most often involves looking beyond ourselves and our desired impact on our family and the wider community.
What are your strengths?
If you are not sure what matters to you then a great place to start is with your strengths, what do you really want to get good at? Chances are that you are already good at something and that's likely to be something that matters to you and it may be just the time to start doing more of that thing that you really enjoy. A strengths finder test can be a great place to get started (VIA strengths finder).
Develop habits that reflect you
Instead of setting an unrealistic goal, once you have established what really matters to you, and start utilising your strengths, you will be more inclined towards habits that support the identity you are trying to develop (J. Clear), so if you want to be a person who is calm and clear-headed, you are more likely to do activities that help you achieve this (perhaps yoga or mindfulness).
If you want to be strong or healthy you are more likely to do some weight training or eat well. There is plenty of evidence to suggest when we move away from goals and towards statements like "I'd like to be…" we will be drawn to activities that support matching our actions to our desired identity.
Stop fear getting in the way
Fear has been described as 'False Evidence Appearing Real'. It may be all very well to have meaning in our lives, explore our strengths and develop habits that reflect what matters to you but at some point, fear is going to get in the way. When our self-confidence is low fear can keep us from doing the things we love, or even exploring what our next talent or strength might be so start small. If you are feeling fearful then take one step at a time.
Spend some time exploring what's important to you and then focus your activities around this. Having some trusted friends who you can share your fears with can help you determine whether your fears are 'real'. The most important aspect of fear is not ignoring it but noticing it and then you can start to do something with it. A little fear can help push you into action, equally overwhelming fear can be a sign that you need to get some support.
Use the tick-tock of time to help
If you have some big ambitions and you feel like life is just passing by quickly and you are not making progress, remember that the pandemic has meant we have all 'lost' two years and counting of our lives. However, it doesn't stop there. It's a great time to pause and reassess whether your ambitions were realistic and how you might reframe them to take account of any difficulties you have had to overcome.
Perhaps the three-year plan is now the five-year plan, or perhaps thinking really big and what matters for the next decade! Accepting that you can't change what has happened over the last two years is part of the grieving and healing process (Kubler-Ross) and with time will help you to move on to the next stage of the process for you.
Lastly, you may want to track your thoughts and how you have developed your thinking over the next year, there isn't a 'right' way to do this. I use a journal to record three good things from my day, two challenges and one thing I have learnt. This really helps me to stay in the moment of that day and helps me look ahead and how far I have come as items that were once in the challenges move slowly into the good things and into my learning, little by little.
So, if you missed January, there is still plenty of time to get started discovering what really matters to you, acknowledge your fears and develop habits that reflect your aspirations and hopes for 2022 and beyond.
Share this article with a friend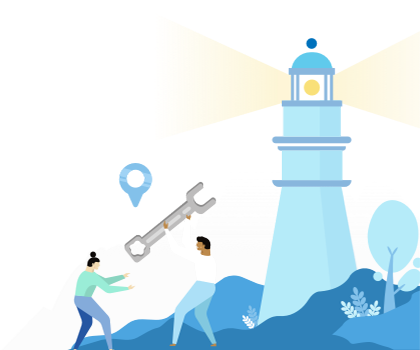 Find a coach dealing with Personal development