Coaching A-Z
Volunteering
Volunteering is the act of donating your time and energy to do something for a good cause; something that aims to benefit the lives of others, or the environment. Whilst volunteer work is done without receiving or seeking financial reward, there are a wealth of other benefits to be had.
For many volunteers, their driver is a genuine concern and care for the well-being of others. Alongside this, contributing to society brings additional benefits, including career development and the chance to meet new people. Volunteer work can add pleasure, diversity and a sense of satisfaction to everyday life. Volunteers can also develop new skills, build relationships, face new challenges and even learn more about themselves.
Here we will delve deeper into the reasons that many people choose to volunteer and explore how a coach may be able to help you get into volunteering and make the most of it.
What are the benefits of volunteering?
Entering the world of volunteer work takes confidence and some may feel nervous about the prospect of starting a new role. With busy lives, it can also be difficult to find the time and motivation to volunteer. But, there are many benefits to volunteering - not only for the community but for you.
Set your CV apart
Volunteer work may be unpaid, but having volunteering experience on your CV can be a very impressive addition. According to a TimeBank survey of some of the UK's leading businesses, 73% said they would employ someone who has volunteer work on their CV over someone who hasn't.
Not only is it an impressive addition to your CV, but volunteering is also a great way to get a reference and fill any gaps in your work experience. If you have time without work, volunteering can offer the chance to try different roles and decide whether you want a change of direction.
Volunteering is a fantastic way to put something back, whether it's helping an individual, a charitable organisation, a community group or perhaps an overseas, not for profit organisation. You're not only keeping your skills and experience up to date, but you are adding to them all the time. You are gaining new experiences, interacting with new contacts and learning new skills.

- Read more about volunteering when unemployed.
Develop existing skills - and gain new ones
Volunteering is a great way to develop new and existing life skills. It can help you develop communication skills, especially if you find meeting new people difficult. It can be easy to get caught up in close relationships with friends, colleagues and family members, but the social element of volunteering means you will be meeting and interacting with a diverse range of people.
Volunteer work may also require working within a group of people; teamwork requires empathy, patience, good communication and understanding. Developing these 'people skills' is vital in ensuring every member of the team feels valued and comfortable. It is important to be a good listener and approachable, but also to be bold. If you have ideas, share them! You never know, your idea may improve the volunteer programme and open even more opportunities.
Build your confidence
By doing something good for others in the community, pushing yourself to meet new people and taking on new challenges, volunteer work can be very effective in boosting your confidence levels. The natural sense of accomplishment gained from volunteering can lead to a greater sense of pride and identity. The better you feel about yourself, the more likely you are to accept new experiences.
Make connections
Charity volunteer work is a great way to make connections, both personal and professional. Networking is a vital part of working life and, if done correctly, can help you progress in your career. Volunteering offers the opportunity to meet like-minded people in less formal situations. It is a great way to show off your skills, your personality and make connections with people who may enrich your life.
Improve health and well-being
As well as proving effective for boosting emotional well-being, developing key skills and improving employability, studies have found volunteering to be good for physical and mental health. Volunteer work can offer people a social life and an opportunity to get outside. It is thought to be particularly beneficial for older people, as it gives them back a routine and sense of purpose, following the end of employment.
---
Student volunteering
Generally, young people tend to have higher engagement levels with social action than any other age group. Volunteering can provide a great break from studying; it can help you to gain practical work experience - knowledge and skills that you can't gain from academic study alone. This can help to enrich your choices about further studying, career opportunities, and even life choices.
Research suggests that 16 to 25-year-olds are the age group with the highest rates of participation in volunteering, with 32% volunteering on a monthly basis and 49% volunteering once a year.
As a student, you are often blessed with time - you are not necessarily confined to the hours of a full-time job, there are holiday breaks, and you may even have free time during the day between lectures. This presents a good window of time to explore volunteering opportunities.
---
Volunteering ideas
Whatever your age or circumstance, there are lots of volunteering opportunities available. Here are just some ideas to get you started.
National Citizen Service
If you're aged 15 to 17, you can take part in the National Citizen Service (NCS). This gives you the opportunity to live away from home, develop skills to boost your CV and have a taste of different types of social actions, from working in community projects to fundraising.
Gap year volunteering
A gap year (or sabbatical) is an opportunity to take time out of study or work to take part in personal development activities - such as travel or volunteering. This can be a popular option for young people between college and university, or after university. A gap year or sabbatical can be a good opportunity to take part in volunteer opportunities such as internships, or even to travel and volunteer abroad - for example, through teaching English as a foreign language (TEFL) opportunities.
Volunteer abroad
There are many organisations that run volunteer placements abroad, from anything from a few days to a few months. Check out Go Abroad to see what opportunities are available.
Volunteering for a charity
Many charities look for support from volunteers. This may include manning a helpline, helping to organise events or even working in charity shops. If there's a particular charity close to your heart, why not contact them and see how you can help?
Online volunteering
Many volunteering opportunities can be done remotely online. This may include offering up work skills like helping to design a flyer, or supporting people via email. Reach out to organisations and see what volunteer opportunities are available.
---
How can a coach help?
Some people thrive in new environments and flourish at the new opportunities that volunteer work offers. However, it is common to lack the confidence to start something new. Or, perhaps you just don't know where to start.
If you are ready to take on new chances and do something for the good of others, but you need a helping hand, the first step of your journey may be to consider coaching.
Building your confidence and self-belief
Coaches are equipped with tools and techniques to help you build up self-belief, so if you are lacking confidence, or are nervous about meeting new people, tell them. A coach can work with you so you can start the job with your head held high.
If you are worried, your coach can help you manage and overcome any anxieties you have about volunteering. They will teach you how to see it as an exciting opportunity, rather than something to be feared.
Finding the right work for you
It is important to find volunteer work that you enjoy, are passionate about and feel confident in doing. If you have a particular skill you wish to develop, or you need more experience in a certain job sector, your coach can help you decide which form of volunteer work will be most beneficial.
During a session, your coach will likely ask you questions about your career, well-being, aspirations and work/life balance. Together you can discuss your strengths and development areas, your key skills and passions, your time commitments, any concerns you may have and the reasons why you want to volunteer.
Don't be afraid to ask questions before choosing a position, both to your coach and the organisation running the programme. Asking questions shows interest, but also ensures you are getting the most out of the experience.
Preparing you for volunteer work
While you will build upon skills during the work, it can be useful to go in knowing what is expected from you. Your coach will be able to prepare you for your placement, explaining the skills required and how you can work on them before starting.
A coach can also offer support and guidance throughout your volunteer work - helping you to take advantage of the opportunity and really enjoy life. They can offer advice and help you build the skills essential for personal development and progression.
You can use our search tool to find a coach who resonates with you. We encourage our members to add as much information as possible to their profiles, so that you can learn more about the way they work and if they are the right person for you.
---
How do I start volunteering?
You might be looking for an informal or temporary arrangement, or to become part of an ongoing project. The best place to start is by doing your own research. If there's a cause or particular type of work that interests you, explore what opportunities are already available.
You can get in contact with your local volunteer centre, or reach out to volunteering organisations that can help you find a way to volunteer that suits you. Do-it is a database of UK volunteering opportunities, allowing you to search more than a million volunteering opportunities by interest, activity or location and then apply online. Similar organisations include Join-in and Volunteering Matters.
If there aren't any opportunities available that are of interest to you, be proactive and make contact with a charity or organisation to that you would like to donate your time.
---
Useful resources
Would you like to provide feedback on our content?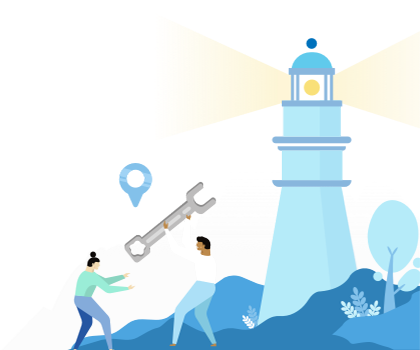 Find a life coach dealing with volunteer work