Coaching is not therapy (but it could be the best way forward)
I love that life coaching is applicable to everyone: those who might be struggling as well as those looking for ever greater flourishing. In that sense, it is very similar to positive psychology - the study of well-being - because there is no upper limit to a happy life. Although, I would argue that coaching is even more inclusive than positive psychology. Coaching doesn't rely on clients buying into the idea that the most important thing is to be 'happy' (whatever that even means). 
Instead, coaching puts you in the driver's seat. It helps you get from A to B in an organised and confidential setting which holds you accountable. However, this also means that coaching isn't therapy: it is not designed to treat or heal mental health disorders. Though, of course, it may end up doing so as a result of the actions you take, whether as direct outcomes of your coaching sessions or not. 
One key benefit of coaching is its advocacy for decomposing large-scale visions into week-to-week plans and actions. Another is its encouragement of routines. Research carried out during the first wave of the Covid-19 pandemic has demonstrated that regularising routines can benefit mental health even during incredibly distressing and uncertain times. Thus, disciplined habits can sustain us through huge societal and personal challenges, allowing us to take control of what we can (even if sometimes that doesn't seem like very much), and look forward to better times. 
I've witnessed these benefits in my own work. I helped multiple clients decompose something big and overwhelming into manageable chunks, allowing them to take action on their own terms. I have watched these small wins then building their confidence over time. A client's goals, challenges and circumstances may well change throughout the coaching relationship, but if they've proven to themselves that they can make a plan and progress step-by-step, then improved self-esteem is a very likely outcome regardless.
I've had clients tell me in their first coaching session that their goal is to earn triple their salary, only to realise that what they actually want is to leave their job and do something small-scale and authentic. The goal may have changed, but by the time our last session came around, they found themselves just as confident as if they had been promoted by a few pay bands.
On the disciplined habits front, I am a big believer in discipline generally being a positive thing. I don't mean the kind of discipline where you count every calorie and miss family occasions because they don't neatly fit into your timetable. I've been there and never want to go back, and I don't recommend that you try it either. I mean the kind of discipline that makes you feel like you are on top of things, and can take a break if you need to without being engulfed by guilt. In other words, the discipline that feels freeing in comparison to the burden of procrastination. 
Reflecting on the last couple of years both from a personal and professional perspective, I think the most important thing for psychological resilience is to find a way to move forward. And if doing that effectively might mean talking to somebody about your plan for the day or the week, then doing that as well. 
Coaching is not therapy, but it is the best forum I know for fleshing out plans, staying accountable, and being supported through life changes.
Share this article with a friend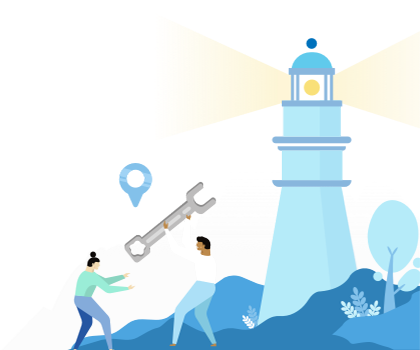 Find the right business or life coach for you