Career coaching
Positive steps after redundancy
'Redundant' is a word that can trigger so many negative thoughts and feelings -  unnecessary, not required, needless, dispensable, disposable, expendable, unwanted, useless, surplus to requirements, superfluous, etc., etc.
It's such a hard word to hear. Apart from the financial implications, it is so easy to start thinking that you are no longer useful or needed and forget that it's not you but the position you held which is redundant.  
It's important to give yourself time to think about what you really want and need from life. It's a good time to evaluate your priorities. One way to stay positive is to think about your strengths, what you're good at and what you love doing. Think of the successes you had in your job and remind yourself that you have not failed in any way, you have been a victim of the global economic situation.  
You might like to ask yourself some questions:
did I really love my old job?
do I want to find a similar job?
what would I really like to do?
what am I good at?
what are my unique selling points?
do I want to try something different?
do I have the required skills?  
how can my skills be used in a different way?
would I like to train for something different?
would I like to study something new?  
do I want to be an employee?
would I like to work for myself?
It's so easy to self-obstruct: you might be telling yourself a story about why you can't do something but if you take the time to think it through, that story may no longer be true or may never have been true. You may fear rejection if you say or write something or reach out to someone. You might just continually procrastinate; it's so easy to say I'll do it tomorrow and then tomorrow never comes. You may be stuck in your comfort zone.
Goal setting/daily planning: setting goals can give direction and motivate you in the short term but without a specific plan of action which causes you to commit to the process and work towards your goals, it's difficult to achieve them. Starting to take any kind of positive action will help alleviate stress and anxiety. 
Small steps, commitment and perseverance pay off.
If you are struggling to work out the process, try sitting quietly for a while. Breathe deeply and connect with your body, notice your breath, notice what you can see, hear and feel. Think of your favourite colour and visualise a bubble around you, keeping you safe. In this state of presence, imagine your life is exactly the way you would like it to be, then think about how you can make it become that way. What do you need to do on a daily basis, what do you need to do longer-term?
Working with a coach can really help you work out what you want to do next and help you create a plan of how you can get there.
Share this article with a friend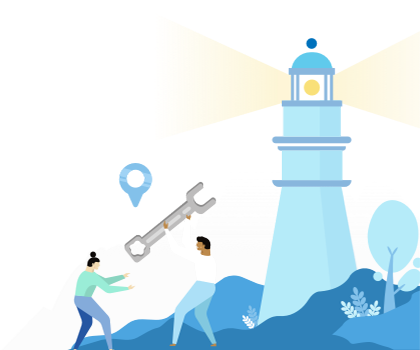 Find a coach dealing with Career coaching