Personal development
Top tips for reflecting on rainy days and enjoying your summer
Perhaps you are having some time to think about life, having some downtime after a busy day at work, relaxing on a rainy weekend, or a sunny day on your holiday. Summer 2019... whether you are having a staycation at home or somewhere away, August and September can be a time of reflection and renewal, similar to the New Year. One of the differences that I enjoy about my summer holiday plans is that unlike at the start of a New Year, no one is going to ask me what my summer resolutions are.
Create some summer resolutions
I call it keeping my holiday head on - wherever you are, there will be something that you are enjoying about your holiday. How can you transfer that, or sprinkle a bit of how it makes you feel into your day to day life?
Write down your thoughts, ideas, and dreams. There are an abundance of articles in magazines and online that will give you tips and ideas on how to transform your life. If you enjoy browsing through stationary - all of the large supermarkets have all sorts of notebooks ranging in price from £1 up to £10 - choose one that is inviting and write in it. Capture your ideas - your 'thought bubbles'. Write lists or mind maps on blank paper. Write anything down without judging or editing what you are writing.
Create a playlist/soundtrack of inspiration. Compile your favourite music that energises, inspires, and relaxes you, and play it!
Create a collage or vision board from your thought bubbles, mind maps, ideas, thoughts, and summer resolutions.
When browsing through the summers magazines, if you see pictures that you like, cut them out; they can create a collage or vision board. If you have travel brochures that you enjoyed looking at, capture the place you enjoyed on holiday or are thinking about going to, gather your pictures and words, and stick them on a sheet of paper or cardboard. Once you have completed your collage, take a photograph and make this your screensaver on your phone, so that you can be inspired every time you switch your phone on! I have my collage in my office, where I can look up from my desk and see it shining out positivity, creativity, and questions that I am thinking of exploring as part of my summer resolutions.
Pausing for thought
In the spirit of Kintsugi, we are a collage of everyone we have ever met and everything that has happened to us, so enjoy reflecting. Kintsugi is the ancient Japanese tradition dating back to 15th Century that makes broken things even better - repairing with a resin mixed with gold or silver, so that the repaired object, usually pottery, looks lovelier than the original - illuminated by the repair. It is meant to encourage the embracing of imperfections, and to treat breakage and repair as part of the value of an object to celebrate its beautiful history.
Using this process as a metaphor for life and love, we can use our experiences of others to complete ourselves. We are a collage of everyone we have ever met, and everything that has ever happened to us.
Dawn French describes this really well in her book "Me you a Diary";
"That's the spirit in which I am going to sail into my sixties. Owning all my little brokenness's, accepting my imperfections and using my hope and faith as my gold glue which will fix me together enough to take me forward. I'm going to know that each crack on me, and in me, represents something I've learnt from, and is a clue to my history, a mark I'm proud to bear. Here is I – flawed as f**k and fine with that."
Talking through your summer resolutions, ideas, thought bubbles, collage, and your Kintsugi with a coach can be really inspiring and prepare you for the rest of your 2019.
Share this article with a friend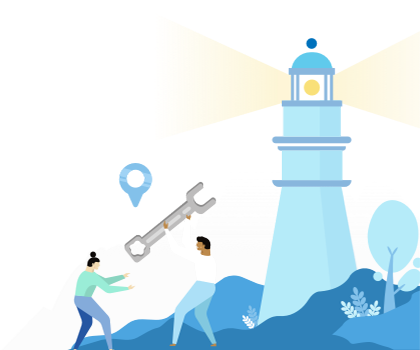 Find a coach dealing with Personal development