Personal development
Lessons from everyday objects
It is an unassuming table, barely large enough to be a desk and not grand enough to deserve the moniker of dressing table. Over the nearly 30 years it has been mine, though, it has served as both, and many other things besides.  
It has sat in what passes as a living room in a studio flat, in a bedroom in a shared flat, as a sideboard in my own first home, and a dressing table in my last London home. It was tucked away in the loft for a while and then, neglected, I decided it would probably sell on eBay if I covered it in the ubiquitously trendy shade of grey chalk paint and gave it some new handles (as one of the original wooden handles had fallen off and been lost along the way). 
 
Having slathered it in grey paint and spent more time than was strictly cost effective finding new handles for the drawer, it seemed I wasn't quite ready to let it go.  When I recently moved again, having completed on my new home the week before lockdown, it moved with me and found its way into the tiniest of box rooms, notionally becoming a sewing table. Except.
 
Except, it really is very small and the grey chalk paint dried to a horrible finish and none of my chairs went with the wretched thing. Once again, an eBay listing was drafted but as my finger hovered over the button I just could not press go. Something about this little table made me pause. 

 
Having havered again, I decided that the most sensible, practical and absolutely best thing to do would be to strip the chalk paint off completely, prime it and repaint it in a different finish. Of course, that was the simplest thing to do, that would change everything.  
And so it was that I found myself, on an intermittently drizzly Sunday afternoon, standing over this little desk with a carbide edged scraper sloughing off the diligently applied coats of grey paint and wax. Suddenly the table seemed a little larger than before. Noticing the dog's expression go from disinterested to quizzical to openly judgemental, I realised that the process of scraping, sanding, priming, painting and finishing would, probably, given my inexperience with DIY, take me at least three days. What other wonders might I achieve instead with three days?
 
When the rain changed from intermittent to persistent, the table moved into my tiny living room, where it became resident in front of a bookcase (upon which I need lavish no such attention) while the deluge continued for 24 hours. Three days started to look suspiciously more like "several to many." It occurred to me that this little table will have cost me more in time, supplies, labour and attention than I could possibly have made from its sale on eBay or have spent on a new (or even second-hand table). 
 
When I followed that thought process through to some kind of conclusion, it became apparent I was investing a disproportionate amount of time in trying to hold on to something that no longer seemed to fit into my idea of home. 

 
The table was a gift from my mother when I was a young teenager. It had seen me through my first proper homework, it had stood stoic while I studied for my GCSEs and A levels, and years later, as a mature student, I wrote my undergraduate essays on its unassuming pine surface in a small bedroom in a shared flat.  
At different times, I had put my "face on" in a triptych mirror, far grander than the desk, that balanced on it, danced until the small hours then stared into that same mirror to take the now smudged face off again before bed. I had stored secrets in its drawer, special gifts from loved ones and trinkets from lovers no longer thought about, as well as mundane things like the essential bedside biro and notebook for the midnight memory of an important job to do in the morning.  
It has been a steady, stalwart piece of furniture of three dimensions when other, originally flatter, pieces have been and gone. Where fancier, mass produced options developed wobbles and instabilities, this table has never faltered. It doesn't wobble, any inconsistencies in the grain are a little charming, and there is a sweetness to its character that can only come with having been smoothed and sometimes chipped by a thousand little touches over the course of sharing some part of a life. This table, in other words, is both literally and symbolically part of my history. 
 
The trouble with this table is I am now having to adapt my activities to suit it – no more projects larger than A4 because they won't fit on the tiny table (it shrinks again when I'm not having to work on it but at it).
As a coach and counsellor, there are questions that this process raises, and that circulate through my mind. Often those questions lead to other questions, a deepening line of enquiry that I can choose to pursue or wonder at my resistance to its pursuit. Many times, they lead to answers but not always with the speed that I would like.  
What matters, I often think, is that I am open to asking the questions and bearing the uncertainty of not knowing, of continuing to enquire without judgement and with a curiosity that allows the enquiry its fullest expression. Perhaps those questions right now include: at what point does the effort to fit something into one's life outweigh the difficulty of letting that something go? At what point does the effort to make something work outweigh the value that it brings? What significance does sentiment have in holding on?
 
The table will, for now, stay on – I'm only halfway through sanding the thing and I can't bear the thought of discarding something still useful. Equally, sometimes there is real value in learning to adapt to something and allowing it to adapt to you.  
This may not only apply to our relationship to things. But I am also still wondering whether perhaps part of its usefulness is not its ability to bear things, but to bear scrutiny, and to make me wonder about the difficult job of holding on and the even harder job of letting go. 
Share this article with a friend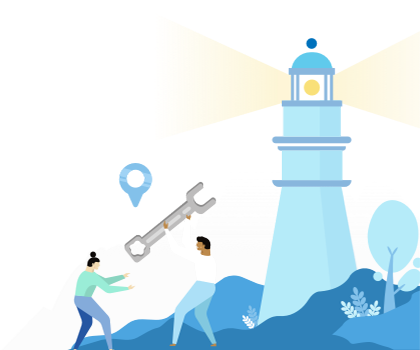 Find a coach dealing with Personal development