Career coaching
Interview nerves: 3 steps to greater confidence
"No one respects a talent that is concealed" (Erasmus)
Interview success is vital to your career and you will want to achieve the desired boomerang effect, to present yourself with confidence so that your interviewers feel confidence in you. After all, it's a big investment on their part and you are potentially their new employee.
So what can you do to feel more confident before and during your interview? Here are some strategies to get you started and they are set out in three stages: prepare, practise & power.
1. Prepare          
Preparation is vital, not a swift glance at the job spec and your CV/career history as a reminder, but an in-depth exploration of both. Clear several hours in your diary to prepare and keep these appointments with yourself. Prepare in good time, thereby being in control and avoiding last minute cramming in the hours before you attend.
Dissect the job spec and understand the role, the objectives and the competencies required of you. Make a list of the key competencies. Then draw up a list of questions they might ask to enable them to ascertain your competency for the post.
Develop your knowledge of the company/organisation to which you are applying. Take a detailed look at their website, their mission statement, objectives and their place in the industry. Read the Annual Report and other publications. Note how your experience and knowledge relates to them and will benefit them ie) what you will bring. Also avoid asking any questions where the answers can be found online or otherwise easily accessed. 
Draw up a list of likely questions in likely running order: eg) tell me about yourself, why do you want to work for us? Or what attracts you to this role? Further competency questions such as, describe a time you had to make a difficult decision, how did you go about it and what was the outcome? Tell me about a project that didn't go as you'd hoped, what did you do and what did you learn from the experience? What professional achievement are you most proud of?What makes you the best candidate for the job? And what questions do you have for us?
2. Practise
Design your answers so you give specific evidence of your experience, knowledge, skills and qualities for the role and environment. Interviewers are not interested in generic answers; they want real examples that demonstrate how you have handled your work in the past so they can see how you might handle it in the future. If they ask you how you cope under pressure, it isn't sufficient to say you've never missed a deadline. Give an example of a situation you've faced, your task, what actions you took eg) your time management method(s) and the result(s) of your actions. Saying it was 'successful' isn't evidence so give statistics, facts, and feedback that you received.
This method of answering competency questions is known as STAR and helps give answers a clear structure and storyline. You will need to develop a personal style of storytelling and say it with confidence. Your evidence or story is what makes your answer unique to you, marks you out from the next candidate and makes you memorable.         
Practise your answers aloud so they are fluent, yet not monotonous, sound interested and make them interesting. Avoid complex sentence structures that tie you and your listeners into a knot!
Focus on building the relationship, presenting yourself as someone who is trustworthy, can build rapport, listen and consider.
Show that you are a good communicator, listen carefully to the questions and think about them. If you are unsure what is being asked, seek clarification rather than assuming what the question is about.
Stand in front of a mirror and watch your facial expression and gestures. Are they confident, pleasant and polite? Build a relationship with your interviewer(s).
Be aware of your tone of voice and when answering a question ensure the tone doesn't rise up an octave at the end, as this will sound more like a question than an answer!
3. Power            
You have more power at an interview than you may think. It's a two-way process. The interviewers may be assessing you, however, you are also making your own assessment of the position, the prospects, the people and the place. So try to see an interview as a meeting where you have power in the process too.
Present the best of yourself, being confident without being arrogant and demonstrate how competent you are. There is no time for modesty. Be mindful of Erasmus's wise words.
Reflections
Seeking a new job or position is a job in itself, requiring careful research and preparation. It means demonstrating your knowledge, professionalism and integrity. Whilst also conveying your competencies confidently by showcasing your ability as a communicator who can swiftly build relationships of trust.
Share this article with a friend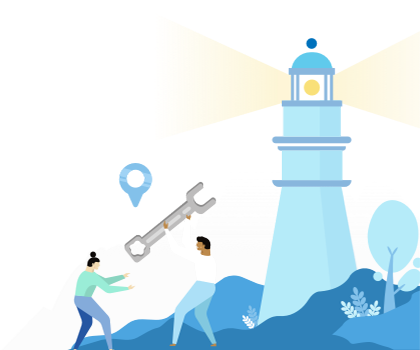 Find a coach dealing with Career coaching