How to manage your return to work post COVID-19
The thought of returning to a working environment after months of adjustment and change can seem really daunting for some people. Having adjusted and coped with the new normal at home, you may now have to contemplate a modified work environment.
 
Your daily working routine may have undergone a change that could now include an overhaul of workplace process and working practices, in addition to workplace layout: changes required as either safety measures or changes that are as a result of new guidelines to a particular sector of work.
Although you can probably see the adjustments as being necessary, they can cause you to feel anxious about the unknown. There are ways that we can mitigate the unknown and support ourselves that encourage a more confident return to the workplace.
We can manage our reactions and reduce stress for ourselves, our colleagues, customers or clients by preparing for our return to work. This could involve our interaction and communication with customers and clients as a precursor to our actual return date.
Every interaction is an opportunity to create and build on a relationship. One that builds on existing trust and confidence, with a new sense of engaging with mutual awareness that we are all finding this new and unknown. The simplest body language can be encouraging, such as open hand gestures during face to face meetings, as well as direct eye contact.
Encouraging clients and customers by offering information about areas both in and outside the building that are safe to talk or relax.
As individuals, we can diffuse our own anxiety by understanding and empathising that there is not one person who has not been affected by COVID-19 on some level, we can then adjust any concerns to a more empathic position. By empathising from this foundational knowledge base that there has been a radical change in all our lives, we immediately remove some of the focus from ourselves. Opening up allows us to receive people where they are.
When faced with the unknown, we are directly facing a hidden opportunity to create learning and to expand our experiences, opportunities for self-learning and to extend our enjoyment. These are real self-learning opportunities for change in our perception and to broaden our boundaries. Feeling the stretch of having extended our boundaries in different ways can offer us a renewed sense of flexibility and sensitivity towards others.
How to encourage a confident return to work 
Manage the major trigger points of your return to work by considering the following points in preparation:
Familiarisation wherever possible before your first day. Make connections with friends and colleagues.
 
Take a look at any guidance that may affect your sector, in addition to looking at the company website. 
 
Check out new guidance available on work layout, policy or practices.
 
As preparation for your return and to help you to relax, use simple breathing techniques with intention. Use your own breath, natural rhythm that is unique to you, to breathe into spaces in your body that are feeling tension. To use colour with your breath is a good way to imagine a soft, gentle flow of inhaling and exhaling.
 
Use journaling to create a balance of thoughts, by writing down the things you really enjoy about your work and workplace.
 
Look at what you can do in your job to be more helpful to other colleagues and customers.
 
Make every activity purpose filled with the intention to enjoy those basic tasks, also include time for relaxation. You can be intentionally mindful about completing the simplest basic tasks with focus, by applying long deep and natural breaths to your activities. Acknowledging any thoughts as just thoughts and then moving gently onto observing your breathing.
 
Managers will be given the task of supporting staff with information and guidance; they may welcome the opportunity for some ideas, feedback or offers of help.
 
Accept your feelings as being perfectly natural and aim towards enjoying any new elements of new learning together.
We are all a work in progress and on a new journey of readjustment, make the choice to enjoy the ride and enjoy the scenery!
Share this article with a friend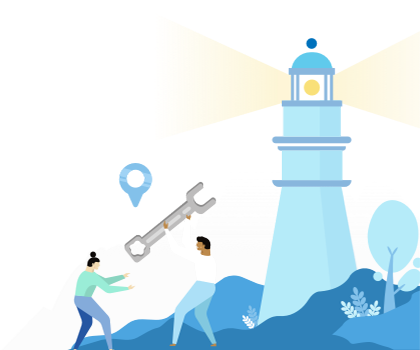 Find the right business or life coach for you