Career coaching
How to create impact with your linkedin profile
LinkedIn is one of the most powerful tools at your disposal in looking for your next role. Despite this, a substantial number of people still don't have LinkedIn profiles, or if they do they are not optimised to show themselves off to future employers.
Like it or not, LinkedIn is now central to recruitment. This could be for employers or recruitment agencies to find potential talent, or it could be for doing further research on candidates who have submitted CVs or application forms. Put simply, there is no getting away from it!
How LinkedIn can work for you
Because so many people don't make the best use of LinkedIn, investing some time and effort can really help to set you apart in crowded job markets. Consider also, that most positions nowadays are not even advertised - they are now often filled through searches by employers and agencies finding candidates on LinkedIn or by people speculatively approaching organisations they would like to work for. This added complication means you need a robust and creative strategy for finding your next role.
Part of my work as a career coach is to help clients get things right with their LinkedIn profile and craft a strategy for using LinkedIn that will help them find - and land - a role that is right for them. In this article, I'm going to share with you seven essentials for creating impact with your LinkedIn profile.
1. Photo
Your photo is the first thing most people will zoom in on when they view your profile. Therefore, it's vital you make the right first impression. A good profile photo is one where your face can be seen clearly and you project qualities recruiters will be looking for, such as confidence, approachability and likability. Part of this is appearing professional and well-groomed. What this means will vary between industries. For some, it will mean dressing formally, for others a more dressed-down approach will work best. Consider what people in the roles you are looking for are likely to wear, and ratchet up the smartness by a notch. Make sure you smile and look authentically you - so avoid things like filters and pouting at the camera. Save that for Instagram!
2. Title
This is a highly prominent section of your profile, so use it wisely. Simply putting in your current job title may not be the best use of this space, unless it's really impressive, like CEO or an FTSE 100 company! Remember, your job title appears further down in your profile and LinkedIn will insert the logo of your current employer if (like most), they have a corporate profile. Therefore, another way to approach the title section is to write something descriptive about what you do, including attributes that will be valued in roles you want to apply for. This short description can convey not only what you do, but also how you do it. Taking this approach is especially valuable if you are looking for a future role that is quite different from what you do now.
3. Summary
So many people don't even bother to fill this section in, which is a massive wasted opportunity. This 2,000-word section is your chance to sell who you are and why you would be a great asset to a future employer. Think of it like your 'elevator pitch' online. Although the content in this section is about you, the purpose of it is to make a connection with people who will hire you for what you want to do next. It's a showcase for your talents, skills, values and other characteristics. Therefore, you can use it to paint a picture of who you are and why an employer should hire you. Use powerful words without sounding pretentious. Keep your target audience in mind as you write it.
4. Experience
This section is basically your employment history. It's ok to copy what's on your CV into this section, but then do some work on the content to make it more impactful. Many people make the mistake of just listing their roles and responsibilities for each job, but this doesn't tell the story about how you perform in this role as an individual. Instead, focus on your achievements, such as 'created and inputted an online marketing strategy that increased sales by 18% over 2 years or inaugurated and led a multidisciplinary team of 10 people to launch a new product line that exceeded projected sales by 14%. Also reference any awards or accolades you received, which could also go in the awards section further down your profile. If you've had a long working life, say over 20 years, leave out less relevant roles early in your career. Recruiters don't need to know about your teenage Saturday job working behind a bar if you're 45 and looking for a senior management role!
5. Education
In this section, focus on the most relevant qualifications, such as degrees and professional qualifications. Explain anything that is unclear from the title of the qualification and add a short description about what you learned through studying for it. Again, if you're in your late 30s onwards, consider whether listing your GCSEs adds any value for what you are looking to do next.
6. Skills and Recommendations
This is another section that is often very under-utilised. In the Skills section, you can list up to 50 skills and also get them endorsed by others on LinkedIn. So, if one of your top skills is 'web design', get people you know to endorse it, such as clients, colleagues or even friends. People who are experts in this area are especially useful as it shows up that your skill has been endorsed by people who are 'highly skilled', adding more value.
Requiring slightly more effort but really worthwhile is the Recommendations section. Here, people you have worked with can effectively write a reference for you, so recruiters will see details of people who are recommending you for the work you've done. Make a list of people on LinkedIn who could write a recommendation for you: managers, colleagues, clients, and send them a polite written request using the form in this section. People are normally really pleased to help and it's hard to overestimate the value of personal recommendations, so invest some time in doing this.
7. Volunteer Experience
This section allows you to add colour and bring to life who you are as a person. The qualities of compassion and giving your time for a worthy cause will be looked on favourably by recruiters, as will volunteer work that demonstrates skills that are of value to employers. If you are a secretary or treasurer of a charity or community group, there will be skills that are applicable also in work, such as organising meetings or financial reporting. This section could also include things like fundraising by taking part in challenges or sporting events.
Implement these seven steps effectively as part of your LinkedIn strategy to position you well for what you want to do next. And if you find that you want further advice to develop or re-shape your career, then consider working with a life coach who offers expertise in career coaching. 
Share this article with a friend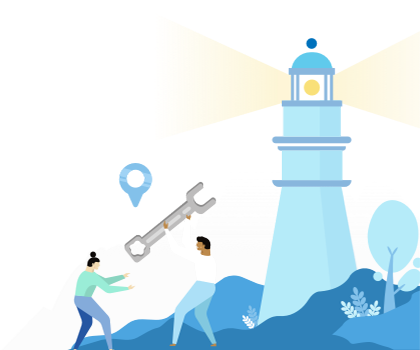 Find a coach dealing with Career coaching