Career coaching
Confidence and resilience for freelancers and self-employed
Thinking of taking the leap from employment to self-employment/freelancing? Already started out and feeling anxious? Having difficulty getting clients? Feeling rejected? Don't take it personally. Conversely, can you cope if clients/customers pour in? Confidence and resilience are two vital ingredients in establishing yourself and sustaining success.
According to a survey by Instantprint based on data from the UK Government's Companies House, 468,371 startups were registered from the first lockdown to the end of 2020. With nearly 10 million jobs furloughed, as many became jittery about their future, people started to consider taking up new ways of working. (Relocate Magazine).
Among the most popular start-ups were online retail and management consultancy, with people keen to become their own boss and continue with homeworking. Concurrently, in autumn 2020 many hi-tech start-ups went into liquidation as government support schemes slowed or discontinued according to GrowthBusiness.co.uk
Wild expectation or down to earth realism?
Going it alone can prove a rollercoaster: there are times when you don't know what to do first, and times when you've nothing to do, times when it feels like there are pennies from heaven, a windfall and times when you wonder when the next payday is coming!
It's important to have big dreams and combine them with realistic expectations.
Here are some pointers:
Don't expect it will be all plain sailing.
Know there will be peaks and troughs as well as the plateaux.
There could well be times of feast and times of famine, metaphorically speaking.
Accept that you'll win some pitches and lose others.
Regard a "No" as par for the course, not failure. Learn from it.
Don't keep looking back, look forward to the next opportunity, whilst maintaining some contact with the old.
When you pitch for work, regard 'interviews' as meetings as you are also deciding if you want to work with the people/organisation. It's not all one way, it's your choice too. Hold on to your personal power.

Pre-empt things going wrong
A major cause of dissatisfaction is unmet expectation so clarity is crucial whether you're selling a product or service. Follow these three tips:
1. Ensure you understand what your clients want. Discuss the product/service they're looking for. What can you do, what might need doing differently? Agree on a way forward.
2. Be assertive in your relationships with clients and suppliers, clear about what they expect from you and you from them, clear about what you can and cannot offer. Put things in writing for future reference.
3. Invite and listen to feedback/decide what you want and don't want to act upon – so you know what your clients think about your work/you and the relationship with you.
When things go wrong, and pre-empting it!
The best way to pre-empt difficulties arising is to understand the benefits/end goals that our customers or clients are looking for and decide how our products/services can achieve them. It is also important to acknowledge to ourselves, and to others, that we cannot be all things to all people, even though we're a new business and want the work. Sometimes that means saying that this isn't a service you offer, and hope you can help them on another occasion.
However, things will go wrong at times or be difficult. Don't blame. Be polite, courteous. Invite discussion.
Have the courage to let the client know if something has gone wrong rather than wait for them to notice it.
Find out what the client wants now to resolve it and go the extra mile to keep the client and your reputation.
Reflect and ask yourself these questions so that you can learn from it. What could have been prevented and how? Were you clear about what the client wanted? Was it a misunderstanding, either on your part or theirs? What was avoidable or unavoidable? What do you need to do to pre-empt it from happening?
Move on. Keep constantly moving forward. Don't keep looking back especially in anger or with a sense of failure, be resilient and ready to see the next door open.
Know your stuff and ensure others know you know your stuff!
Gain the qualifications you need in your field: it will give you confidence and others confidence in you.
Join and maintain contact with your professional body or bodies. This serves as a testimonial to your ability and they can give you support and guidance.
Keep learning and developing: maintain Continuing Professional Development, whether through reading, webinars and provisions offered by your professional body.
Keep a record of your experience, skills, knowledge, qualities and achievements as well as testimonials and positive feedback. These are then ready to provide in the form of a CV or supporting evidence for prospective clients and are invaluable for your own confidence and self-esteem.

Be assertive
Assertive communication, being able to articulate your needs and listen carefully to others, goes hand in hand with being skilled with your business offering. It's important to be able to say yes and no, always politely. Sometimes you may want time to think and tell your client when you'll get back with an answer or a proposal. Know when to ask for help, such as when you find the work pouring in. Could you benefit from getting the support of a virtual PA to do the admin or social media tasks that you don't have time for?
It is also important to be able to handle differences and to respond constructively to criticism and difficult feedback, which isn't always easy at the best of times and especially if you're a solo operator reliant on yourself.
Be clear about your principles and values, don't allow others to dilute them or be seduced into territory that contradicts them by the prospect of gain.
Have a support system
Be sure to have sources of support: do you belong to a professional body where you can get advice or go to meetings? Or a networking group? A great accountant, someone you can talk to? Do you have a mentor or supervisor with whom you regularly discuss your work or can talk over problems? Do you know other freelancers you can share experiences with?
Be constantly proactive
It can be challenging as newly freelance/self-employed, making your business visible amongst the thousands doing similar online. Even if your website starts getting noticed, don't let up. Keep active:
Online, with newsletters (taking account of GDPR) and social media.
Build and constantly develop your website and promote it via social media
Ensure your social media looks professional and remove any personal posts and photos that could cause doubts about your professionalism
Build a community of people in your field; you don't have to see them as competitors, you can help each other, such as covering work when one of you is ill or working in a way that complements each other yet not in competition
Don't wait or procrastinate – keep constantly proactive
Planning and organisation 
When you're the one looking over your shoulder, all this requires is a mix of good organisation and focus.
Structure your day and your week.
Keep good timing with yourself and your clients.
Put in regular developmental and marketing activities as well as income time.
Have a good work-life balance.
Happy freelancing!
I have based this article on my experience of 30 years of being self-employed as well as from coaching innumerable people both starting up and established in their fields. Whatever the hurdles, which there will always be in life, I have truly relished working in this way, and still do. I wish you every success with your goals and dreams.
Share this article with a friend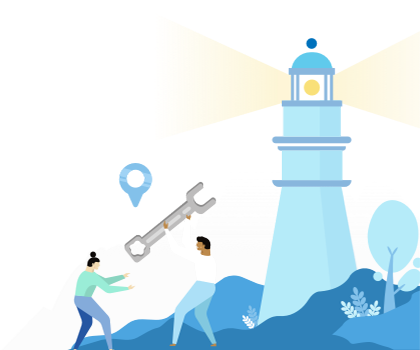 Find a coach dealing with Career coaching