Personal development
Banish broken resolutions - how to make changes that last
The establishment of inspirational goals and the formulation of plans to see those goals attained are central to coaching. But what lies at the very heart of the desire to make positive change is the will, or lack of it, to see that it lasts. What is the point of investing in coaching sessions, self-help books, CDs, speaking tours and workshops if the end result is just another disused and discarded resolution?
Whatever change you wish to see realised in your life: healthier lifestyle; better work/life balance; reduced workplace anxiety; quitting undesirable habits; greater clarity in thought; higher self-esteem – it is a waste of time and money if you do not see it through, otherwise why start in the first place? Put simply, how do you make it last, for the duration....for a lifetime?
As an example, let's take a glance at a most common desire: to be a different body shape to that we already possess. This is one of the obsessions of the age and so many are subject to this, and at the same time fall prey to the multi billion pound/dollar/euro industry that thrives off it.
There's no secret
Everyone understands the basic premise required to be in better shape, and unless one is impeded by a medical condition, it could not be simpler: eat better and be more active. Anyone who has problems with yo-yo dieting and 'workout phobia', however, knows that it is clearly not that simple. If it were everyone would all be doing it instead of complaining about it, while bouncing from fad to fad. Many people want to improve their fitness, they know how to go about it and yet so many struggle – clearly there must be something else - there must be a far more profound dynamic involved.
Examining motivation
The first place to look if you are struggling (in fact even before you begin) is to examine your motivation for wanting to create a healthier lifestyle. If you are having difficulty you are most likely not doing it for the right reasons - you are not doing it for your reasons. You may be pressured into trying to make change by, for example:
Your perception of what other people think of you.
How you believe you 'should' look.
Trying to live up to the body image the media peddles (the main aim being to shame you into buying whatever they happen to be selling).
Ill defined goals with little or no planning.
Underlying all this may be low self-confidence or self-esteem, anxiety or even depression – all of which will sabotage your best made plans at a stroke. Understanding your motivations, and what lies behind is absolutely fundamental to ensuring that your desire for change will succeed... for good!
Working to develop higher levels of personal awareness, will bring into sharper focus your own emotions and motivations. This in turn will provide the lasting shift in thinking and therefore habits, that will make yoyo diets, futile and costly nutrition courses, and wasted gym memberships, things of the past. In short, a well thought through healthy lifestyle program will focus on:
1. Helping to establish realistic goals that reflect your innermost desires.
2. A step-by-step plan to achieve those goals designed to suit your own personality, strengths and drivers.
3. Clearing your mind through meditation so your thoughts become less cluttered; allowing distractions and challenges to be observed, understood and more readily managed.
4. The removal of guilt, shame, and self-judgement for how you think you look at the moment – and the low self-esteem issues that come with them. This can take serious application to achieve but again, it is essential.
5. A positive attitude to a change in lifestyle and the acceptance of setbacks as a basis for continued forward momentum and not a reason for backsliding.
6. Accepting full ownership of the journey and ultimately of the success it will bring. 
The success, or not, of a health and wellness programme has a great deal to do with our social conditioning and mental attitudes which are well installed in our psyche. If you are carrying burdens of, for example, unrealistic expectations, guilt, and shame – that is the weight loss you need to tackle first and foremost – otherwise the battle with unwanted waistlines will just go on and on.
Firm foundations are required in all enterprises and none more so than changing lifestyles. By focusing on the inner challenges you face, as an integral part of healthy lifestyle goals, you can achieve real and lasting change – the way you want it!
Share this article with a friend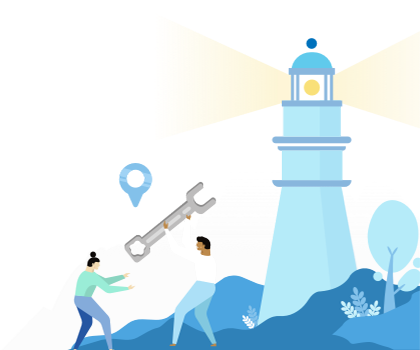 Find a coach dealing with Personal development