Three Proven Steps to Career Success
Are you?
Frustrated at work because your colleagues career is accelerating faster than yours
Finding it difficult to stand out and be heard
Feeling sidelined
Working longer and harder without being appreciated
Not doing the work you love
If so, you are not alone. Navigating your career can be complex and when it doesn't go your way, it's a real challenge to stay motivated. Jenny Garrett, executive coach and author of Rocking Your Role, shares three proven and practical steps to career success.

 1. Vision
If you don't know where you are going, how can you get there?
Set your vision for success: Where do you want to be in your career in 3 months, 6 months, a year, 3 years? Write it down or draw it in as much detail as you can and aim for it. By taking this step you will now have deadlines and check in points to take stock of your achievements. Don't forget to find ways to reward yourself when you accomplish them.

2. Challenge
Challenges make you discover things about yourself that you never really knew.
Now you have your vision in place, work out what you would need to do to get there. These will be activities that stretch you. It could be learning, training, education, or perhaps you need to craft experiments that take you out of your comfort zone, such as public speaking, or being more vocal in meetings. Alternatively, it could be that you need to raise your profile and need to share more of your success with those who make decisions. Brainstorm all of the activities you could do and plan small steps to achieve them.  Schedule them alongside the timeline of your career vision. Don't expect perfection; use these activities to continue to learn and develop yourself. But do hold yourself to account, with the aid of a critical friend, coach, mentor or sponsor.

3. Support 
No man or woman is an island
Once you have a clear vision for your career with milestones in place and some challenging activities to get you there, it is critical that you seek out support. In the workplace that could be a sponsor, mentor or line manager. Outside of the workplace, it could be a membership group or network you belong to. Many people take on a career or life coach to support them along the journey, keep them on track and push them beyond their perceived limitations.
You must take all three steps to raise your game at work 
Vision on its own is just a pipe dream
Vision and Challenge is sink or swim and destined to failure, as you are being held to account but not supported to get there
Vision and support is too cosy, as there are no consequences to not achieving
These steps alongside coaching have had real success for my clients. Do share your strategies for raising your game at work.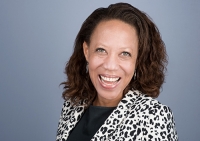 My mission is to transform the world for everyone, one empowered woman at a time. I use my years of experience in coaching and leadership to inspire and motivate people, working with them to deliver career and life changing results beyond expectation.
* Awarded APCTC Women's Coach of the Year 2014 * Author of 'Rocking Your Role', guide to success for female breadwinners. * LinkedIn UK Top 1… Read more
Located in Hemel Hempstead.
Can also offer telephone/online appointments.
To book an appointment, please get in contact: