Home

>

Djembe drumming - let go & play
Djembe drumming - let go & play
Phone:
01233 878474 / 07968 785714
Date & Time:
4th July 2018, 7pm - 9.30pm
Location:
Stalisfield Village Hall
Stalisfield Road
Stalisfield Green
Faversham
Kent
ME13 0HY
Email organiser
Yvonne's series of experiential workshops are designed to inspire. They include a carefully selected range of activities for people with a desire to learn, grow and experience new things. Perfect for those that would like to enrich their lives, boost their confidence and enhance their wellbeing.
For this workshop, Yvonne has invited Richard Latham, professional and enthusiastic percussionist and founder of Rich Rhythms, to lead the group on Djembe drumming.  Known to relieve stress, this style of African drumming is fun, uplifting and good for mind, body and soul. Drumming offers a great workout for the brain and heart - it can induce relaxation, release negative feelings, boost the immune system, tap into creativity and help people to connect with themselves and each other. Not surprisingly, drumming is also used successfully for personal development work.
We'll be taking a special look at 'letting go and play', which can be difficult, especially for adults. But when we do, it can help to build confidence, stimulate playfulness, expand thinking and create energy. In this workshop, we'll be experimenting with this concept in a safe setting and working in a group dynamic which is always supportive and fun.
You're bound to leave the session on a high note!
Group limited to 15 people. Payment in full required to secure booking.
Parking - outside the Village Hall on the green verges. If this is full, the Plough Inn have kindly permitted use of their car park.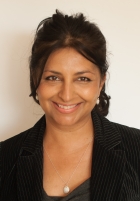 About Yvonne Fernando
As a NLP master practitioner and life coach, Yvonne supports clients through change to give them more confidence, help them become 'unstuck' and move forward - keeping them focused, motivated and on track. Sessions are designed to open up horizons and create new possibilities. Yvonne also runs a range of inspiring workshops for positive change.