Career coaching
How to become a freelance coach
If you have succeeded in your own journey to becoming your own boss, perhaps you're now considering sharing your knowledge and experience with others. Maybe you worked with a coach yourself and know how beneficial it can be during the transition from being an employee to self-employment.
So, what next? If you're feeling inspired to help those who are just starting out on their freelance journey, there are a few things you should know if you want to become a freelance coach.
---
What does it mean to be a freelance coach?
Being a freelance coach means supporting people who have either already taken the leap to leave the standard 9-5 job to explore new opportunities, or those who have always dreamt of becoming their own boss, but are unsure where to start.
Freelance coaches help people who are typically self-employed through the transition from being an employee, to being their own boss. They will offer their support and advice in setting up a business and steer them through the potential challenges that come with self-employment, such as inconsistent pay or staying motivated.
How do I become a freelance coach?
There are several things you need to consider if you're thinking of becoming a coach, such as further training, insurance, and self-promotion. While this may sound overwhelming, rest assured, there is plenty of support available.
Qualifications
Even though there are no formal qualifications needed to become a freelance coach, investing in further training, knowledge, and experience, is extremely helpful. There are several, easily accessible accredited coaching programmes and courses you can complete to build your knowledge and become trusted in the field.
The most well-known is the International Coaching Federation (ICF). They have a range of courses such as Coaching Out the Box and Level One and Two Certified Professional Coaching programmes.
You can also undertake accredited training courses from the International Authority for Professional Coaching and Mentoring (IAPCM) – the only accrediting body approved by the British Industry Ombudsman for coaching and mentoring.
If, however, you're looking to become a specialist coach (such as in marketing or finance) then relevant, industry-specific qualifications will be really beneficial in helping you stand out from the crowd.
When it comes to choosing a coaching course, the options can seem a little daunting. We recommend you research courses that offer qualifications recognised within the UK industry standard.
At Life Coach Directory, we also have a number of affiliate organisations that you could decide to train with. We strongly recommend that you take the time to check that these courses and qualifications meet your requirements before undertaking any training with them, as we can't be held responsible for the information they have provided to us.
Legal obligations
There are standard legal obligations set by HMRC that you must comply with when setting up your own business, including registering your business and paying tax. Once you have fulfilled these requirements, there are no additional obligations to becoming a freelance coach.
However, as you will be dealing with client information, it's important that you know the rules surrounding data protection: the General Data Protection Regulation act, or 'GDPR'.
You can read more information about consent and the right to data privacy on the government website.
You may also want to apply for a DBS (Disclosure and Barring Service) certificate. This is a record of a person's criminal convictions and cautions and prevents unsuitable people from working with those that are vulnerable.
What's involved in a DBS check?
A DBS check is a copy of your criminal record. Even if you don't have any convictions, it's worth getting a copy as it is proof that you are able to work with vulnerable people.

It's conducted by checking your records against the police national database, and this can go back as far as possible. For a basic check, you'll just need to provide a few details such as your passport, driving licence, addresses and national insurance number.
How much does a DBS cost?
Currently, a basic DBS certificate costs £23.
Before you apply for a DBS certificate, it's important to note that there are different types, ranging from 'basic' to 'enhanced with barred' lists. Please ensure you take the time to read up on the Disclosure and Barring Service before proceeding. This includes the different options, eligibility and paying for your certificate.
Skills
As well as your knowledge and experience, coaches require great people skills. If you're able to communicate effectively, your advice will be more easily digested by your client. Another key skill in coaching is being able to listen to your client, to be able to better understand what they want to achieve and what they might be struggling with. Lastly, though it's great to build a rapport with your clients by being friendly and approachable, it's also important to keep them motivated so they can achieve their goals, both personally and professionally. So, having a focused mindset is important to keep them afloat and stay on track.
Self-promotion
Once you're qualified as a coach, the next step is to get your business off the ground. So, consider how much you'll charge (making sure you've taken into account your personal costs), what services you'll offer and how you're going to promote your coaching services.

You might consider joining some social groups, not only to network with other coaches, but also to get your name out there. You've taken a big step to further your career and do what you love, so don't be afraid to shout about it – ask people you know to help spread the word.
Having a website is another way you can promote your services. You might even want to engage in writing articles, filming videos or creating podcasts to really build trust with potential clients and let them get to know you.
---
Joining Life Coach Directory
You can also advertise your coaching practice on Life Coach Directory from £19.50 per month. With an established website that ranks highly in search engines, the ability to write articles and publish your events, you'll also receive support from our award-winning Membership Services team to help clients find you.
We're one of the UK's leading coaching websites, with an average of 47,000 visits per month. And, along with our sister directories, we are the only network of wellness directories in the UK with certified B Corp status, so we're a company with just as much heart as you have for your new endeavor!
For more information or to register your business with us, visit our Join Us page.
Share this article with a friend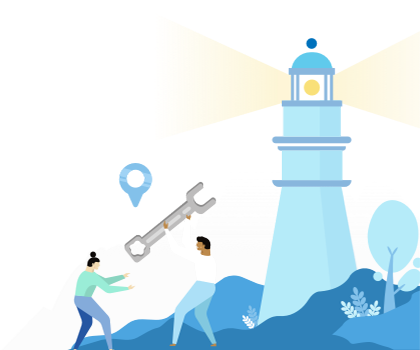 Find a coach dealing with Career coaching