Personal development
8 self-development apps we love
Anyone on the self-development journey knows it's an ongoing, often topsy turvy, road. We rarely get to the point where we feel 'finished' and this is the point, we are always a work in progress. This shouldn't make you feel despondent, but instead excited about the possibilities.
There are many ways we can look at personal development, from hiring coaches and other professionals to help guide us, to delving into the world of self-help. Thanks to the development of apps, many of us can walk around with support and guidance in our pockets.
While apps may not be the same as getting tailored, one-to-one support, they can offer a lot of help. Here we look at some of our favourites, from apps that help you sleep to apps that gamify your goals.
1. Insight timer
Many of us know by now the benefits of meditation for both our mental and physical health. Offering us a chance to be quiet, still and gain some distance from our thoughts, meditation is a habit all of us can benefit from.
Making this habit easier to maintain is Insight timer, an app with over 45,000 guided meditations as well as well-being talks and music. Choose depending on your mood and if you want access to exclusive content (including courses) you can sign up to their member plus subscription (£55.99 a year).
2. Remente
If you're looking for a holistic app that covers tasks, routines, goals and habits, try Remente. Use their interactive tool to see how balanced your life is and pick different areas to focus on. Set goals and reflect on your feelings in the journal section and mood tracker. Offering in-app purchases you can take things further and enrol in courses to manage stress, sleep, relationships, increase productivity and be more mindful.
3. Focus timer
Finding it tough to concentrate? Try the Pomodoro technique where you focus on one task for 25 minutes, take a short break and focus again for 25 minutes. This much-loved technique is recommended by productivity experts around the world and Focus timer is an app to help you on your way. Sending you gentle notifications to let you know when your focus session is done and when it's time to get back to work, we love the simplicity of this app.
4. Habitica
The app that gamifies your life, Habitica offers your avatar rewards and punishments to help you stay motivated in achieving your goals. Track and manage your habits, level up your avatar by staying on track and enjoy fun rewards like battle armour, mysterious pets, magic skills, and even quests! If you're already a gamer, this will suit you to a tee.
5. Simplemind+
If you're partial to a mind map for helping you organise your thoughts and create new ideas, you'll love Simplemind+. Allowing you to create mind maps on the app and synchronise across devices, you'll always have space for creativity and access to your mind maps.
6. Lumosity
If part of your self-development plan involves brain training to sharpen your memory and problem-solving skills – try Lumosity. Using scientifically-validated tasks and turning them into fun games, this app will offer valuable insight and even adapts to your unique strengths and weaknesses.
7. Sleep Town
Does your sleep suffer due to your late-night scrolling habits? You're totally not alone, and Sleep Town may be the app to help you break the habit. Set yourself bedtime and wake-up goals every day and if you manage to put your phone down and achieve your goals, you'll construct amazing buildings in the app. Every morning the building you create will be a fun surprise to keep you motivated and keep building!
8. Happiful
Looking for easy access to a network of health and well-being professionals as well as inspiring articles to support your personal growth? Happiful has you covered. Search for a professional in your area, find a local support group, read articles or read our monthly magazine for free all in one place.
---
We're all unique and respond to different approaches. So while we hope this list will inspire you, do explore other apps and find one that speaks to you. Let us know your favourites on Twitter or Facebook.
Share this article with a friend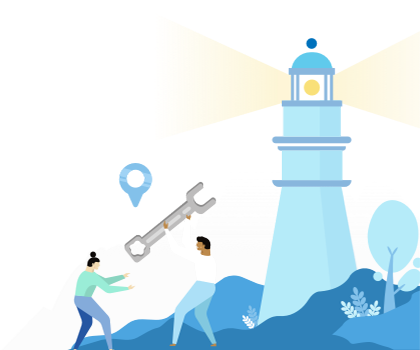 Find a coach dealing with Personal development