Career coaching
6 tips to boost your LinkedIn profile
Gone are the days of a 'job for life'; these days, the job market is vibrant and fast-paced and that means changing jobs every few years is now the norm. This is fantastic news if you're constantly keeping your eyes peeled for the next challenge. The problem, though, is that the majority of job vacancies are not actively advertised by employers.
Instead, many positions will be filled by head-hunting. This often means that you are being considered for a role without even knowing it. So, in order to avoid missing out, it's more important than ever to advertise yourself to prospective employers, particularly online.
But as much as everyone to tells you to 'get yourself on LinkedIn', it can be difficult to know exactly how to use it to its full capacity. What do you do once you've created a profile? How often should you update it? What can it do to help you?
To answer these questions here's six top tips to separate you from the competition.
1. Put serious thought (and effort) into your profile photo
Use a professional looking photo – but you don't have to pay for a photographer. Just ensure you have good lighting, and a timeless outfit and hairstyle – so that it lasts. But, be sure to update your photo every now and again – we're talking every year or so (not ten times a year). This ensures your profile keeps a fresh look.
2. If nothing else, keep the basics updated
Ensure that your most recent employment/certification/level of education is correct. Also, consider your contact information; if you have a new mobile or email address, be sure to update this or you'll risk missing out on being contacted for a potential opportunity.
3. Write a snappy summary that incorporates your key skills, as well as your personality
Think of this as your shop window – it's the first section that people land on. Make sure it's something that encourages people to continue scrolling down your page, rather than clicking on the next person.
4. Make it visually interesting
One long string of text is a bit dull. If you have some professional photos of yourself at a conference/event, or even receiving an award, you can add this to the relevant employment of your 'experience' section. Or, if you create visual content, why not add some examples to your page? This makes your profile more enticing and demonstrates your abilities.
5. Connect with people you don't yet know
This is social networking after all. Would you only attend an event if you knew 100% of the people in attendance? Of course not. So, infuse your social feed with the views and opinions of people that you don't yet know, particularly if they're in your line of work. This will increase your awareness of events or breakthroughs that are happening in your industry. Increase the size of your window into the business.
6. Don't ignore the jobs tab
Here you have the power to actively let recruiters know whether or not you're open to hearing about new opportunities. You can set the area you are looking within, the industry type, and even the size of company.
By filling in this information, you will receive regular emails with jobs that fit (or are very close to) your criteria, taking all the hard work of searching away from you. You can also apply to jobs directly through LinkedIn – making the application process even simpler.
If your job hunt is causing you a headache, take a look at the career advice our experts have to offer.
Share this article with a friend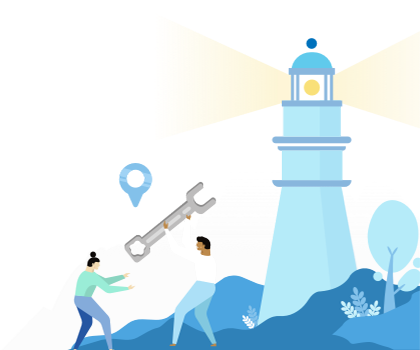 Find a coach dealing with Career coaching